All professionals at Berger Family Dental maintain the highest levels of accreditation and pursue ongoing education to stay abreast of the latest trends in the dental field. Read on to learn more about our friendly team.
Aaron S. Berger, DMD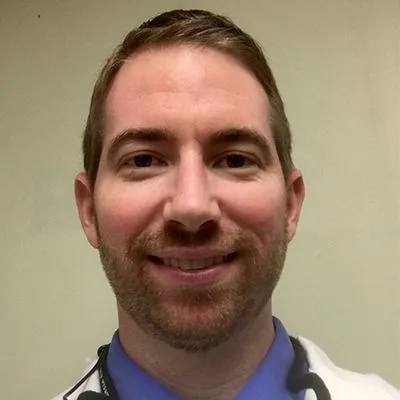 Dr Aaron Berger and his wife Racheal both grew up in the Louisville area where they met and started dating in high school. Dr Berger is a DeSales grad and Racheal went to Mercy, and they were both lucky enough to attend Bellarmine University. There Dr. B played soccer and studied biology, and Racheal was an artist and a golfer. Dr. Berger used his BA in Biology to get into the University of Louisville School of Dentistry where he graduated with a DMD in 2006. He has furthered his knowledge with many, many hours of continuing education courses over the years to stay abreast of the latest technology, new procedures, and techniques to be able to offer his patients the best treatment that modern dentistry has to offer. He is proud to be able to offer a full scope of general practice dentistry to his patients that starts with prevention like cleanings and simple restorative procedures such as fillings and crowns which fix decayed or broken teeth, on up to periodontal procedures for gum disease, and even alleviating toothaches with root canals or simple and surgical extractions to remove those teeth that cannot be saved. He even offers short term orthodontics such as six month smiles -tooth colored braces, or invisalign -clear aligners, to correct crowded teeth or straighten and then brighten your smile with free whitening after his ortho cases. He also enjoys replacing missing teeth with dental implants to restore your smile and regain chewing ability.
Dr. Berger and his wife Racheal moved to the heart of Jeffersontown in 2010 to start their family and fell in love with the area. They now have two children, ages 7 and 2, so they stay very busy, like most families that live here! They are very excited to finally open their own private dental office in the same great neighborhood and community in which they live! It is a little smaller and hopefully a little more relaxing environment than many larger scale practices, and Dr Berger is looking forward to taking excellent care of his neighbors on a more personal level. With very competitive fees and payment options including Care Credit, and even a discount plan if you don't have dental insurance, we hope to allow families to fit their dental care into their budgets. We see children and adults of all ages, and Dr Berger will create a personalized dental healthcare plan for each individual with your Overall Health, Dental Health, and your personal goals and needs in mind. We are celebrating our first month of being new business owners in Jtown with free ortho consults and discounted Invisalign and 6 Month Smiles cases and 50% off take home whitening for new patients that get a full exam and cleaning. Please enjoy our website and stop by to see us if you are in need of a dental exam, or even if you are just in the neighborhood! We are located off South Hurstbourne Parkway between Stockyards Bank and Cattlemen's Roadhouse, and we can't wait to see you soon!
---